Complicated Families

As We Grow Older
Gretchen Heuring | ElderThink | 02.10.09
Family relationships take different forms. There are parent-child relationships, relationships between grandchildren and grandparents, there are siblings, and more removed family relationships with cousins and in-laws.
These relationships are influenced by distance, divorce and remarriage, favoritism, family heirlooms, and money. In families, resentments last longer than people.
Families Often Live A Long Distance Apart
We are not there as our loved ones change. Grandparents living a distance apart can miss the first steps of a grandchild and often don't know the newest favorite bedtime story. The toddler can become a chatty child between opportunities for a cuddle.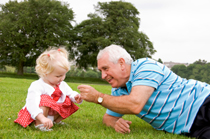 Young men and women can mature as they grapple with life's problems and decisions but parents, living too far to visit often, do not have a chance to see or appreciate these changes. The older people, having their own experiences, change too. As a result, parents and children can love one another profoundly, but not really know each other very well. This makes communication difficult when the ageing parent becomes frail or ill and needs help.