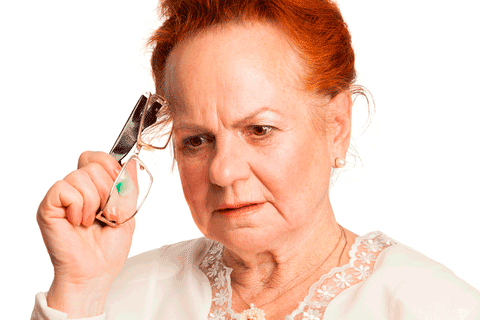 Sometimes we think about Dementia as "acting crazy" but that's not what the term really means. Dementia is the loss of important mental abilites including reasoning, memory, and solving the problems of everyday life. There can be other symptoms too, such as a change in personality and mood. When these symptoms are strong enough to interfere with a person's daily functioning, then she has Dementia.
Dementia is not always a result of heart disease. Sometimes the vessels that carry blood to the brain become narrowed or blocked, resulting in vascular dementia, but this does not happen to everyone who has heart disease.
TIAs (Transient Ischemic Attacks)
The most common type of vascular dementia involves mini strokes (TIAs) which often go unnoticed. They are caused by small blood clots interrupting regular blood flow to the brain. The result is forgetfulness and confusion. Over time, more areas of the brain become damaged by TIAs and greater memory loss is the result. This type of vascular dementia develops slowly, often over a long period of time. Usually lapses in memory and reasoning are followed by periods of stabilty, then there is further decline.
Early Intervention Can Make A Big Difference
The progress of Vascular Dementia can be halted. Sometimes the condition can be reversed over time with therapy and medications. It's important to catch it as early as possible.
The Underlying Causes Can Bring About A Stroke
Stroke can be caused by a large blood clot that prevents blood flow to the brain and the brain begins to die. Sometimes the arteries that carry blood to the brain have become hardened and brittle because of plaque build up and they can burst.
Symptoms of Vascular Dementia
Some of the symptoms mirror Alzheimer's Disease so it's important to get a proper evaluation. With Vascular Dementia, symptoms appear noticeably as a change in mobility or behavior. With Alzheimer's, symptoms develop and get worse in a slow steady pace over months and years.
Mental and Emotional Symptoms
These symptoms include slowed thinking, general forgetfulness, confusion, personality changes, mood swings and loss of social skills.
Physical Symptoms
Noticeable physical symptoms are dizziness, tremors, rapid shuffling steps, balance problems, and loss of bowel or bladder control.
Behavioral Symptoms
Behavioral symptoms are different from the others. They include slurred speech, laughing or crying without apparent cause, difficulty following instructions, and difficulty with ordinary things like a favorite card game.